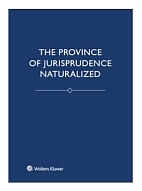 THE PROVINCE OF JURISPRUDENCE NATURALIZED
STELMACH J. BROŻEK B. KUREK Ł EDITORS
wydawnictwo: WOLTERS KLUWER , rok wydania 2017, wydanie I

cena netto: 223.80 Twoja cena 212,61 zł + 5% vat - dodaj do koszyka
The Province of Jurisprudence Naturalized
---
The study of law is, first and foremost, the study of a human practice. The full account of the practice of law can be given by explaining legal rule-following behaviour not only from the scientific, i.e. objective, perspective, but also from that of the person who must decide how she will respond to the law. Answers to various and persistent jurisprudential questions – such as "what is the law?" or "what is the difference between law and morality" – require an account of what it means that a person accepts a legal rule as a legal rule and not as a rule of any other normative system. Unfortunately, it seems that this subjective point of view is beyond the reach of scientific method. Science allows us to study the social behaviour in the legal context, but it does not allow us to distinguish between the acceptance and non-acceptance of legal rules.
---
Preface

Edoardo Fittipaldi
Naturalizing Legal Dogmatics

Giovanni Battista Ratti
Naturalism and the Demarcation Problem

Luka Burazin
Brian Leiter and the Naturalisation of the Philosophy of Law

Oleksandr Merezhko
The Issue of Law's Objectivity in Russian Legal Philosophy of the Beginning of the 20th century

Marek Jakubiec
Naturalizing Jurisprudence in the Light of Naturalized Epistemology

Jaap Hage
The Compatibilist Fallacy

Anna Brożek
Moral experience, generalizations and fallibility. Kotarbiński, Czeżowski and Przełęcki on ethical systems

Łukasz Kwiatek
The Naturalization of Morality: Between Nature and Culture Corrado Roversi, Leonardo Pasqui, Anna M. Borghi An Experimental Study on the Grounding of Legal Concepts

Łukasz Kurek
The knowledge condition of moral responsibility and the sciences of the mind

Karolina Prochownik
Do people with a legal background dually process? The role of causation, intentionality and pragmatic linguistic considerations in judgments of criminal responsibility

Bartłomiej Kucharzyk
The Inadmissible Evidence Effect in the Context of Polish Law

Tomasz J.G. Zygmunt
Expert Intuition and Judicial Decision Making

Karol Chrobak
Can Violence Be Morally Justified?
---
232 pages, Hardcover
Po otrzymaniu zamówienia poinformujemy,
czy wybrany tytuł polskojęzyczny lub anglojęzyczny jest aktualnie na półce księgarni.