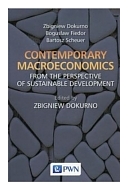 CONTEMPORARY MACROECONOMICS FROM THE PERSPECTIVE OF SUSTAINABLE DEVELOPMENT
FIEDOR B. SCHEUER B. DOKURNO Z.
wydawnictwo: PWN , rok wydania 2018, wydanie I

cena netto: 86.49 Twoja cena 82,17 zł + 5% vat - dodaj do koszyka
Contemporary macroeconomics from the perspective of sustainable development
---
This is an important and original voice of Polish economists in the world discussion of the fundamental directions and problems of contemporary economics. It is addressed to economics and those who deal with the theory of economics, as it constitutes a voice in discussion with regard to the fundamental issues of economic theory.
Prof. Jerzy Wilkin
The Polish Academy of Sciences Member, Warsaw
---
Preface

Chapter 1. Philosophical principles of contemporary economics
Bartosz Scheuer, Zbigniew Dokurno
1.1. Introduction remarks
1.2. J. S. Mill's legacy in modern economics
1.3. In search of the proper scientific method - from verificationism to falsificationism and beyond
1.4. Macroeconomics as a set of scientific rcsearch programs or paradigms
1.5. Macroeconomics as a discourse
1.6. Philosophical and methodological presuppositions of contemporary macroeconomics discourse
1.7. Theoretical ideas presented in macroeconomic discourse
1.8. Discursive structure of contemporary macroeconomics as a challenge
for ecological economics - recommendations

Chapter 2. Multidimensional and macroeconomic analysis of natural capital and its influence on the economic growth and sustainable development
Zbigniew Dokurno
2.1. Resources and enyironment from the perspective of economic growth
2.2. Sustainable devclopmcnt - conceptual, ethical and paradigmatic problems
2.3. Weak sustainability - the main macroeconomic issues and measuring
2.4. Strong sustainability - the main macroeconomic issues and measuring

Chapter 3. Beyond GDP - alternative macroeconomic measures of welfare, well-being and assessing of sustainability
Zbigniew Dokurno
3.1. Introduction remarks
3.2. Is happiness all that matters? A theory of subjective well-being
3.3. Objective measuring of well-being, sustainability and other valucs beyond GDP

Chapter 4. Sustainable development, eco-innovations and inflation
Zbigniew Dokurno, Bogusław Fiedor
4.1. Inflation in the context of economic growth and sustainable development - preliminary observations and remarks
4.2. Inflation and the economic and social dimensions of sustainable development
4.3. Inflation and the environmental dimension of sustainable development - an attempt at outlining the naturę of the problem
4.4. Limiting the inflation as a kind of support for sustainable development

Chapter 5. International trade from the sustainable development perspective
Bogusław Fiedor, Zbigniew Dokurno
5.1. Preliminary remarks
5.2. The global aims of sustainable development as the premises for the change of international trade paradigm
5.3. International trade - environment - sustainable devclopmcnt
5.3.1. Internalisation of external environmental costs and international competitiveness from foreign trade perspective
5.3.2. Liberalization tendencies in international trade and sustainable development: countries', regions' and global perspcctive
5.3.3. Prereąuisite conditions for the stimulation of beneficial effects of trade liberalisation

Chapter 6. Ecological modificalions ofcontemporary macroeconomics paradigms versus the need for reshaping macroeconomic theory from the perspective of sustainable development
Bogusław Fiedor, Zbigniew Dokurno
6.1. Main directions of ecological modifications in contemporary mainstream macroeconomic theory
6.1.1. Neoclassical and Keynesian environmental protection and natural resources economics
6.1.2. Ecologically balanced steady-state growth in the neoclassical equilibrium growth theory and optimal growth models
6.2. Neoclassical theory of ecological ly balanced growth versus the sustainable development concept - an attempt at comparing the cognitive and normative value from the macroeconomics theory perspective

Conclusions
Bibliography
Appendixes
Authors
---
182 pages, Hardcover
Po otrzymaniu zamówienia poinformujemy,
czy wybrany tytuł polskojęzyczny lub anglojęzyczny jest aktualnie na półce księgarni.