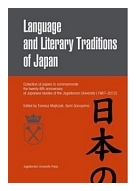 LANGUAGE AND LITERARY TRADITIONS OF JAPAN
MAJTCZAK TOMASZ SONOYAMA SENRI EDITORS
wydawnictwo: WYD UJ , rok wydania 2014, wydanie I

cena netto: 44.89 Twoja cena 42,65 zł + 5% vat - dodaj do koszyka
Language and literary traditions of Japan
---
The year 2012 saw the twenty-fifth anniversary of the establishment of the Department of Japanology (at present, of Japanology and Sinology) at the Jagiellonian University. On this occasion, an international conference was organised on the 22nd and 23rd of November, in a charming room in Kołłątaj College, at the very heart of Cracow. Four centres of Japanese studies from Poland were represented: Poznań, Toruń, Warsaw and, of course, Cracow, whilst foreign guests arrived from Belgium and Germany.1 The papers delivered during the conference focused on questions of Japanese language, literature and theatre, but they also included history, philosophy and religion. The speakers ranged from renowned professors, through younger scholars to doctoral students, which both ensured a high level of discussion and made it into a very interesting and pleasant meeting as well. The full programme of the conference is given below.
The present volume includes eight papers out of the fifteen presented in November 2012 in Cracow. They are further supplemented by four articles on similar subjects, either originally planned for this conference or delivered elsewhere – but at any rate hitherto unpublished. With this modest volume we hope to make our contribution to bringing the modern reader closer to understanding Japan, past and present alike, and to duly continue the long-standing tradition of Japanese studies in Europe.
(From Foreword)
---
246 pages, Paperback
Po otrzymaniu zamówienia poinformujemy,
czy wybrany tytuł polskojęzyczny lub anglojęzyczny jest aktualnie na półce księgarni.